When:
February 11, 2012 9am;
March 10, 2012 9am,
April 14, 2012 9am,
Where:
Cache Valley Public shooting range.
http://northernutahgunclub.com/viewtopic.php?f=5&t=6
Information:
To participate in these events you must turn in a signed and notarized affidavit. Download the affidavit here.
http://www.odcmp.com/Competitions/Forms/Affidavit.pdf
These events are
Civilian Marksmanship Program
sanctioned and will qualify to purchase an M1 or an M1903 from the civilian Marksmanship program.
http://www.odcmp.com/Sales/rifles.htm
What do I need to compete in the match?
Any iron sighted as issued manually operated military rifle as well as the M1 Garand is eligible to participate.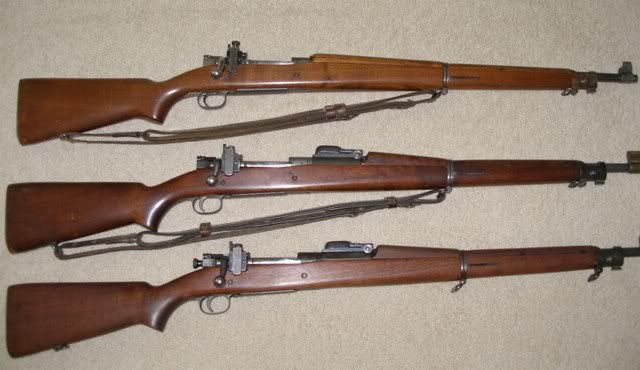 Some examples include; the M1903 springfield (pictured above), M1917, Schmidt Rubin K31, British Enfield, or any Mauser.
Ammo Requirements: You will need 55 rounds of ammo for the rifle you are going to shoot and an extra magazine or stripper clip to do a rapid reload.
List of equipment you will need to bring: A pen or pencil, eye and ear protection, something to sit on such as a camp stool, a pair of padded gloves, a shooting mat or piece of carpet ( not required but good to have), binoculars or a spotting scope to spot your shots. Wear a shooting jacket or a heavy jacket to make prone position more comfortable. A clipboard will give you something to put the scorecard on while you are scoring. Bring drinking water and a lunch. Dress for the weather. We will be in a covered building though.
Match information:
There will be basic instruction prior to the match. Coaching will be available if needed.
The goal is for everyone to have an enjoyable time.
The match will be fired at 100 yards using the shooters pavilion.
The course of fire will be:
5 sighting shots prone.
time limit of 5 minutes.
20 shots, 1 at a time prone.
time limit of 20 minutes.
10 shots, rapid fire from prone including a reload.
time limit 70 seconds.
10 shots, rapid fire, sitting position including a reload.
time limit is 60 seconds.
10 shots, 1 at a time, standing position
time limit is 10 minutes.
Awards and rules:
CMP pins
will be awarded based on total score compared with current CMP cutoffs found in the CMP rules section 9. (link to the rulebook)
http://www.odcmp.com/competitions/rulebook.pdf
These rules will govern the operation of this match. Reading them will answer most questions.
If questions remain after reading the rules, please contact Terry Johnston at 435-750-6102 or at terence.johnston ( at ) comcast.net
As we have limited space please register either at the Cache Valley Public Shooting Range
viewtopic.php?f=5&t=6
or with Terry Johnston.
Good luck hope to see you guys there.